Dongguan, China, August 21, 2013/J.D. Leather Goods/ -- Dongguan J.D. Leather Goods is a leading belt manufacturer in China, we have a 5s management system and skills improving meeting in belts manufacturer on August 28, 2013. The meeting's main topic is: The knowledge of 5s management system guidance and the management skills improving. The leaders of every department of our manufacturer have attend to this meeting, include Sun Dijiu, Liu Jie, Shi Xiangrong, Zhou Changbing, Liu Ji, Kuang Chunyan and the manager, Huang Shidong presided over this meeting.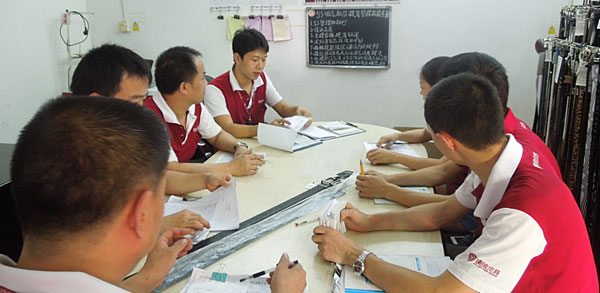 The meeting contain eight topic as follows:
1. 5s management and guidance.
2. How to ensure every belts' quality.
3. Reasonable arrangement and improve efficiency.
4. Make the summary and plan the next day.
5. Ensure accuracy of material flow required for production, during production and in supply areas in production.
6. Whenever you meet with difficulties, try to solve it by you self first.
7. Deal with communication and coordination between departments, colleague.
8. Improve machine operation skills, spread the positive energy to employees.
J.D. Leather Goods is building a model belt manufacturer in Dongguan, China, we are working to improve our belt manufacturer's management, include the development and implementation of company's ISO9001:2008 project, a lot of management training, etc. If you want contact us, welcome to send a email to sales@jdleathergoods.com.