Dongguan, August 22, 2013 /J.D. Leather Goods/ —Dongguan J.D. Leather Goods conducted orientation training for new employees in the staff canteen on August 22, 2013. 11 employees took part in the training, they are Gucci Gu, Louis Liao, Zhiqiang Liao, Qiji Zou, Wenbo Li, Yang Liu, Hongmei Yin, Yuanchun Yang, Dean Li, Nick Yan, Robert Luo. The HR.Dept. Manger, Amily Zhang presided over this training.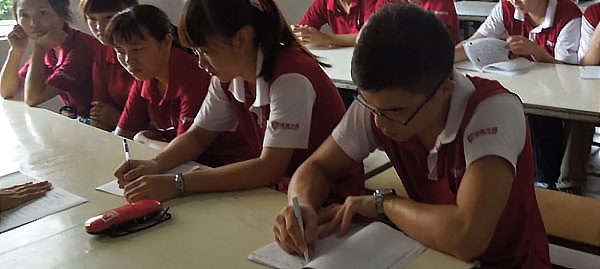 The training mainly include the following content, the safety management regulation, the overalls distribution regulation, the staff canteen management regulation, the attendance management regulation, the staff dormitory management regulation, etc.
The effect of this training is let the new employees know their responsibility and authority, familiar with the company culture and so on. The continuous development of J.D. Leather Goods can hardly do without the addition of new employees and the efforts of employees, in this respect, we have been working hard.
J.D. Leather Goods is a leading belt manufacturer in China, if you want to know more about J.D. Leather Goods, you can visit the profile page of our factory. You can also find the contact info in the contact page.