Oct. 9, 2013/ Gavin/ Dongguan -- Dongguan J.D. Leather Goods, a leading belt manufacturer in China. JKO's Manager, Julia, visited the belt factory, and praised recent cooperation between the two sides, especially the feather belts of Calvin Klein. This visit lasted three days.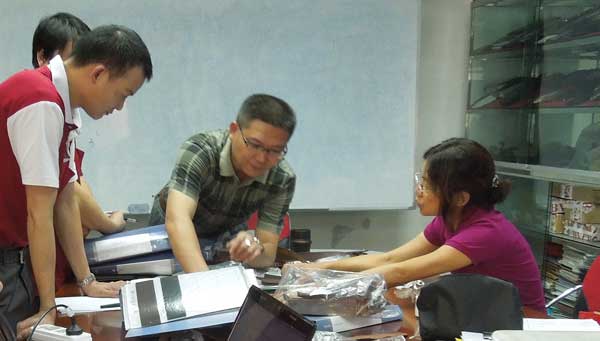 At 12 o'clock on Oct. 9, the Manager Luo and the driver Song Shucan take Julia and her colleague, Lucy and Kloe to the belt factory. In the next three days, Julia and Manager Luo and Manager Zhou processed a series of work. At 5:00 p.m. on Oct. 11, Julia finished the visiting and went to Hongkong.
During this visit, Julia said:"Your sample master has very good workmanship, your documentary's service is very good, and factory also control the quality very well, let the Calvin Klein's quantity of our sales samples and styles increase of 300% compared with the previous season". High quality products, good service is the belt factory's base and development of the fundamental.