Oct. 30, 2013/ Gavin/ Dongguan -- Dongguan J.D. Leather Goods Co., Ltd. is a leading belt factory and belt supplier in China. On Oct. 30, The belt factory warmly received four friends from Mexico. They are from the AEL company and the two parties have a nice communication about belt ( especially the PU belt ) and wallet.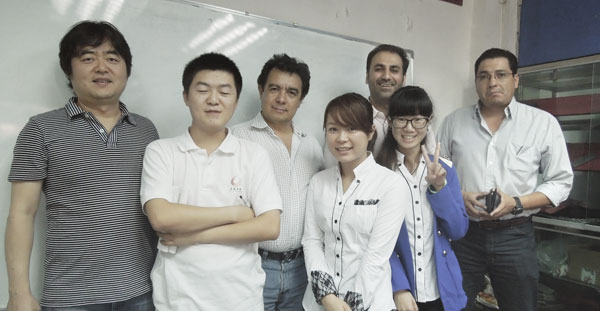 The AEL's boss, Raj ( the third one from the right), brought three customers to the belt factory at 11:00 a.m and accompanied by three staffs from J.D. Leather Goods, the staffs are Ivy, Robert and Coco.
They visited the workshop and the sample room of the belt factory, then they had a meeting in the reception room. They exchanged the basic information about each other and discussed the detail about belts and wallets. They are very interested in Calvin Klein PU belts and Guess PU belts.
J.D. belt factory has customers from all over the world and J.D. Leather Goods looks forward to inquiry and cooperation from all new and old customers.