Each of our bag and leather accessory ranges is handmade from start to finish so that each of our products has its own unique character. Our leather satchels, messenger bags, and travel bags are an excellent example to show the care and attention, which goes into each one. This is how they are made.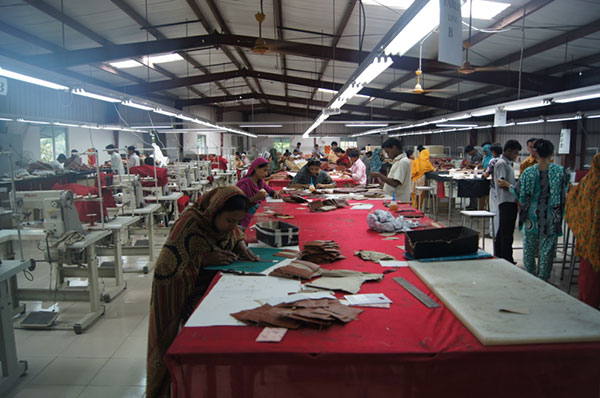 We have set up a workshop in India, which follows all the Fairtrade principals. This workshop is where we go each year to develop new styles, train new craftsman and generally check everyone is working well and happy with our relationship with them. Our workshop is well-lit, airy and generally a lovely place to work- friendship is the basis of our business and this is particularly true within our workshop.
We have between 15 to 20 people making our bags at any one time depending on the season and religious holidays. Each craftsman is part of a team with a hierarchy similar to that in a working kitchen Each craftsman rises up the ranks, from carrying out the simplest task, such as keeping the place tidy, to a leathersmith, who stitches the bag together and finally to master pattern cutter, who helps develop new designs. Each position is paid fairly according to skill and the amount of time they have been with us.
At present, we only have men working in our workshop due to Indian culture but we are trying to outsource work for women in neighboring communities. Our gorgeous embroidered belts and purses are now handmade by these women.
Once the leather has been tanned it is hand-rolled using a heavy rolling pin, which gives the leather a beautiful smoothness whilst maintaining it's natural grain that helps give the leather it's distinctive vintage feel. (For more information on our leather visit our ethics page)
The leather is then ready to be hand-cut into each section of the bag using a variety of metal templates. The canvas lining is then glued on to keep it flat against the leather whilst it is double stitched together. This adds strength as well as allowing zip pockets and tablet or laptop sleeves to be added.
Now each section is ready to be double stitched together. This process is still carried out on old Singha Sewing Machines, which have been remarkably well maintained since the British were there nearly one hundred years ago!
Once the general structure of the leather satchel, messenger bag or travel bag has been securely formed the straps and buckles and handles are then strongly riveted and double stitched on.
The leather bag is now given a thorough final check to make sure it is perfect. Once the bag has been completed it is then given a coat of mustard seed oil, which helps nourish the leather, helps waterproof it and further deepens the rich tan color. The process is now complete and the leather satchel, messenger bag or travel bag is ready to be shipped to us.