PU belt (artificial leather belt), generally composed of 2-3 layers (the conventional middle layer is recycled leather)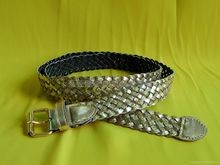 A. advantages: the biggest advantages are low price, bright colors and various styles (the main producing areas in China are wenzhou and yiwu in zhejiang province).
B. disadvantages: extremely poor toughness, generally it can only be used for about 2-3 months.
The main origin of leather belts in China is the pearl river delta and zhejiang province. Of course, there are many other regions in China, such as changshu city and zhangjiagang city. Relatively speaking, the pearl river delta high-grade leather belts more, and Hong Kong and Taiwan enterprises produce high-grade belts accounted for the vast majority, zhejiang artificial leather and two belts in the majority, zhejiang's main origin for zhejiang wenzhou (two leather) and yiwu (artificial leather).