RFID (Radio Frequency Identification), known as radio frequency identification technology, can identify specific targets and to read and write data through radio signals. Establishing specific goals mechanical or optical contact is not needed identification between systems and special goals. A new generation of passports, credit cards, bank cards and ID card with RFID microchip, the chip stored sensitive personal information. Electronic thieves can use RFID reader to steal information related to 10 feet (3 meters) distance.
This year, our company adopt RFID information security fabric to produce wallets and card cases. They can effectively be shielded data transmission within the range of 10Mhz-30Ghz frequency band, and the relevant. The official data transmission of passport, credit cards, bank cards and ID cards are based on the 13.56Mhz band, so it can effectively protect the information security. At present, our products have been widely used in RFID wallet, RFID card package, passport bags RFID, RFID pockets, cell phone rest bags, mobile phone shielding bags, credit cards and other card cases products.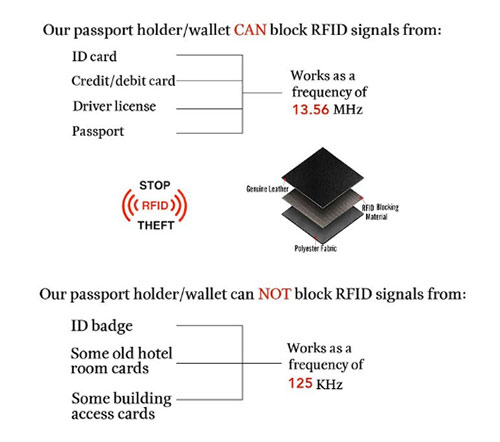 Attention:
The material of RFID has two kinds of, they are antioxidant material and non-antioxidant material. The RFID effect of antioxidant material is better than non-antioxidant material as time goes by. Surely, the effect is same at the beginning.
In general, RFID material has two kinds of colors, they are silver and gray. The color does not affect the RFID result.