Dongguan, China, August 22, 2013/J.D. Leather Goods/ -- Dongguan J.D. Leather Goods Co., Ltd, a leading belt manufacturer in China, welcomed AOL's visit. AOL is a golf products supplier. AOL came to J.D. Leather Goods mainly to purchase some leather belts, eventually they selected 43 style belts.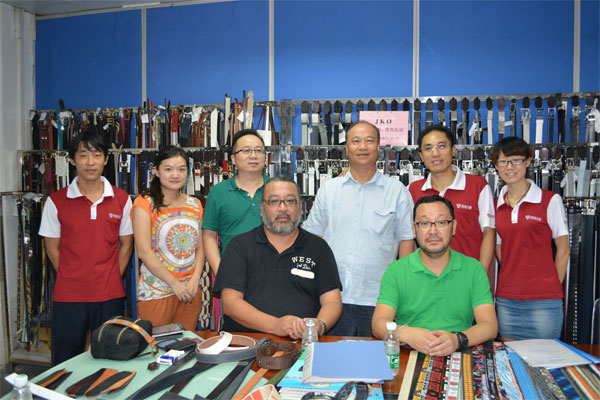 First, AOL's CEO and his colleagues visit our factory with J.D. Leather Goods' general manager, Daniel, factory director Jianhe Zhou and the Business executives, Ivy, Mainly position is the sample room, this is helpful for they to form an initial understanding of our factory. Then in the meeting room, they viewed our recommended belts, and selected some belts in the sample room. We also had more in-depth communication with them. We introduced the situation of the company and its own main business, etc each other. They very surprise for our warm reception, everyone was full of anticipation for the next step of cooperation.
J.D. Leather Goods is a leading belt manufacturer in China, at the same time of constantly improve their production ability, we also continue to strengthen our ability to service, do our best to serve every customers of J.D Leather Goods.
If you want to know more about J.D. Leather Goods, please visit the belt factory's profile page, or want to contact us, you can send an email to our business assistance, ivy, and her email address is sales@jdleathergoods.com, also you can visit the contact page to get more information.