In the factory, we can see all kinds of belts which is made of different materials, and many people should be interested in this question: what are leather belts made of? Here, the J.D. Leather Goods are sum up the main materials of belts.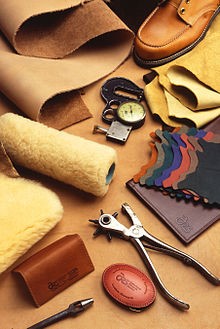 The most commonly used raw skins in leather are: cowhide (mainly cattle, with a small amount of yak and buffalo in China), pigskin (which account for more than 70% of leather production in China), lambskin (goat, sheep), and other animal skins also can make leather, but they are not the main raw materials because they are very rare.
Compared with other commonly-used leather, cowhide have some features as below:
The size is large and can be used fully even for long belt.
The thickness is enough to make belt.
Tough and high strength. It is not as soft as lambskin and pigskin, and with good flexibility and strength.
These features, makes cowhide become the main materials.
Several tanning processes transform hides and skins into leather: chrome-tanned leather, vegetable-tanned leather, aldehyde-tanned leather, and formaldehyde tanned leather, brain tanned leather, chamois leather, rose tanned leather, synthetic-tanned leather, alum-tanned leather, rawhide.
You also can visit http://en.wikipedia.org/wiki/Leather to know more about the categories detail.
The cowhide can be divided into four categories according to the texture:
Full-grain leather: Full-grain leather refers to hides that have not been sanded, buffed, or snuffed (as opposed to top-grain or corrected leather) to remove imperfections (or natural marks) on the surface of the hide
Top-grain leather: Top-grain leather (the most common type used in high-end leather products) is the second-highest quality. It has had the "split" layer separated away, making it thinner and more pliable than full-grain.
Corrected-grain leather: Corrected-grain leather is any leather that has had an artificial grain applied to its surface.
Split leather: Split leather is leather created from the fibrous part of the hide left once the top-grain of the rawhide has been separated from the hide. During the splitting operation, the top-grain and drop split are separated.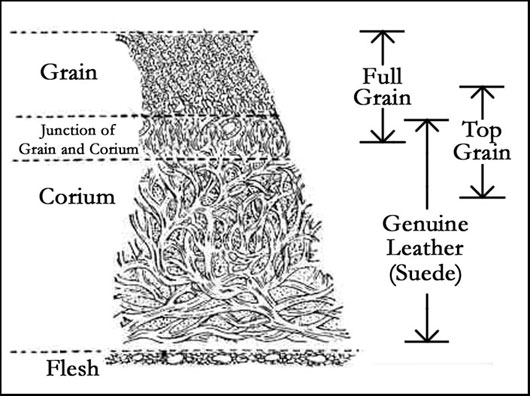 Which is the best in the above categories? Usually, the less artificial, the better, and the natural is the best, we can evaluate the quality according to the below sequence:
Full-grain leather > Top-grain leather > Corrected-grain leather > Split leather.
Leather, usually vegetable-tanned, can be oiled to improve its water resistance. Frequent oiling of leather, with mink oil, neatsfoot oil, or a similar material keeps it supple and improves its lifespan dramatically.
The full-grain leather we usually used is the vegetable-tanned leather which is mainly imported from Brazil. Welcome to visit the genuine leather belt category.